What to expect from your boudoir session?
Spoil yourself with professional hair and make up by my stylist! Indulge in our complimentary sweets and champagne and be ready to have amazing time during our shoot.
Together we will come up with perfect outfits and I will guide you to look and feel your best for our 90 minutes session. Don't worry about little imperfections, with my posing and flattering lighting I'll show you how stunning you are!
You will feel empowered, beautiful, sexy and that's before even seeing your images!
This is a perfect gift for your special someone or just to celebrate your badass self!
As holidays are approaching, I'd love to offer you a special pricing for my HOLIDAY BOUDOIR SESSIONS.
I will be holding only 8 of them this year and they will be booked on first come, first served basis, so don't hesitate to reach out and book a time slot!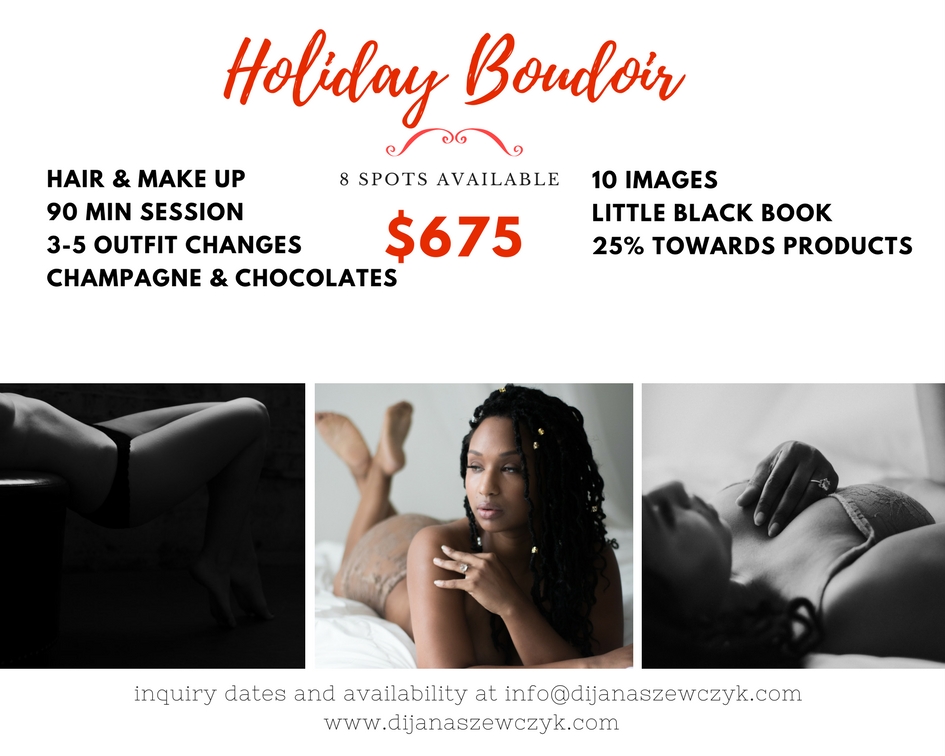 My Holiday Boudoir Sessions will include:
Professional Hair and Make up (full glam!)
90 minutes session in my studio downtown Portland
2-5 wardrobe changes (you can use my studio wardrobe or bring yours) + implied nude
Champagne & chocolates
10 images
Little Black Book (high end personalized album)
30 seconds teaser video (think Victoria Secret commercial)
25% towards products or extra images
20% towards Keratin Lash Treatment (Lift & Curl) with Simplici Lashes
Price for all above is $675!
Your session can be as risque or as modest as you wish. It's all about make you feel like amazing woman that you are so don't hesitate to ask any questions or propose any ideas!
Little Bonus: If you get a friend to book with you, each of you will get additional $75 off and that will make this incredible session available for $600 to you.
If you'd like to check my available dates and time slots (only 8 left until the end of the year) reach out and let's make it happen!
Talk to you soon!