One of the biggest worries our clients have are "what am I going to wear? nothing looks good" – so here we are to tell you how wrong you are and there are too many outfits that look good on everyone. We will share our favorite boudoir outfits for you to buy or use from our Client Wardrobe.
Each and every item we carry in our Client Wardrobe has been hand selected by our staff, only choosing to carry the most flattering pieces for any body type! However, there are a handful of pieces that our clients tend to gravitate towards to because they are definitely a crowd favorite, and we tend to agree! Our Staff Picks from the Client Wardrobe are:
The infamous fisnhets is available in  Black in a variety of styles but with the same concept. They are one size fits most and hug your every curve! Very stretchy and comfortable which is why they are a popular pick!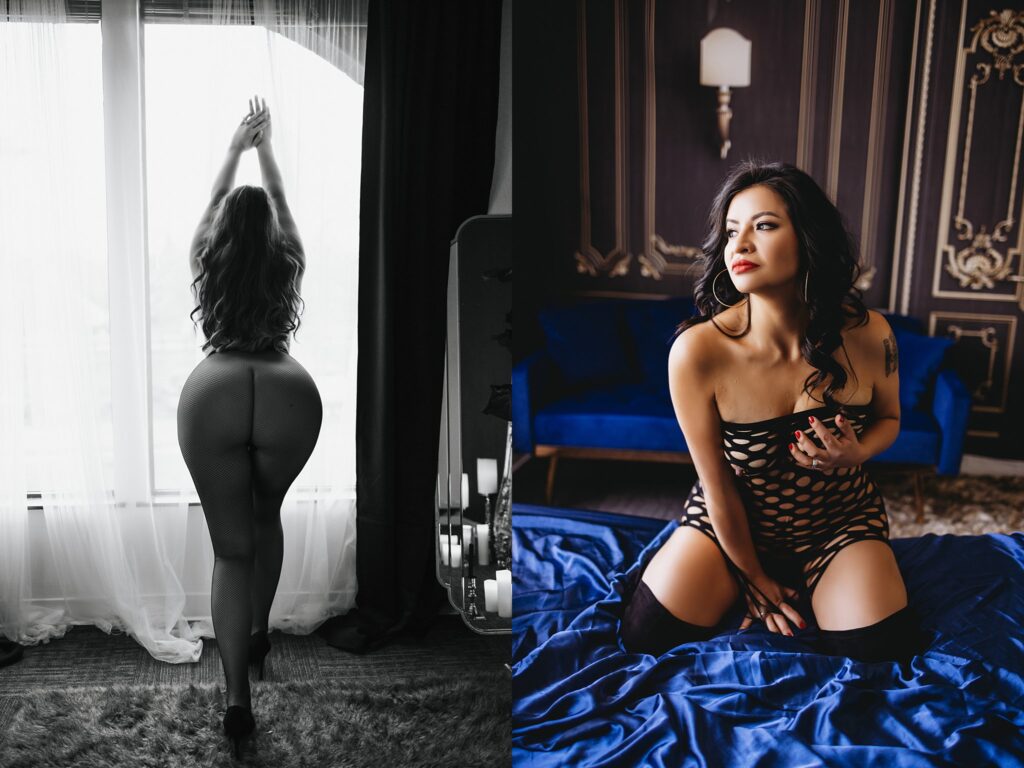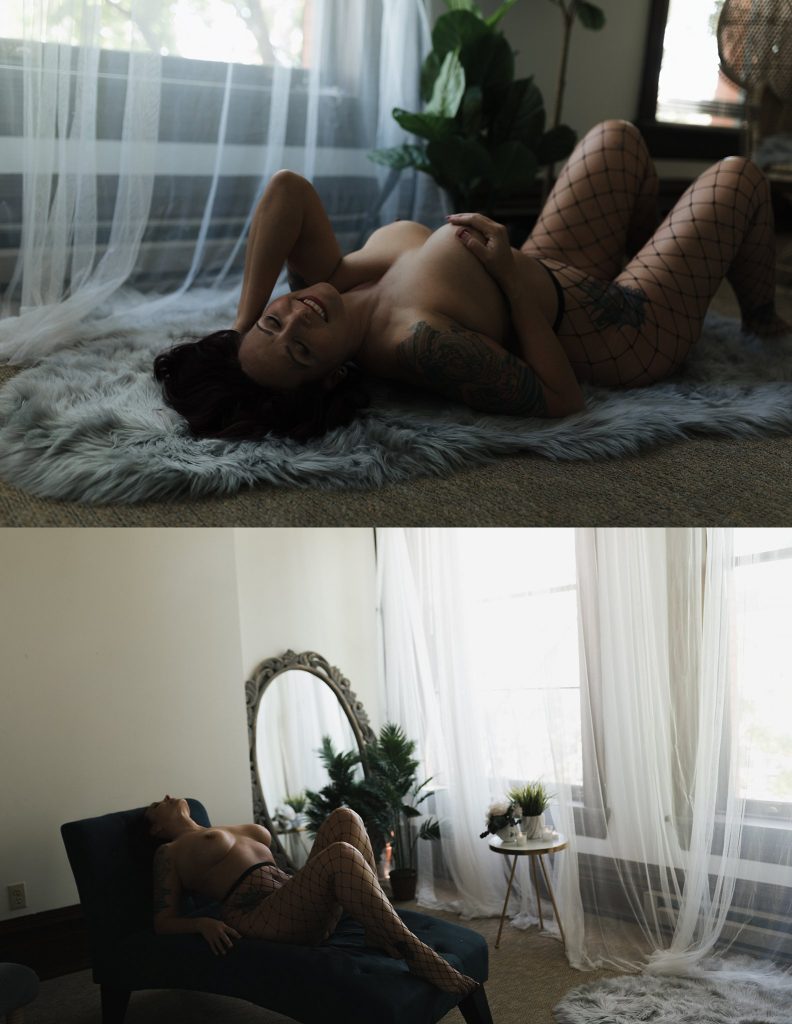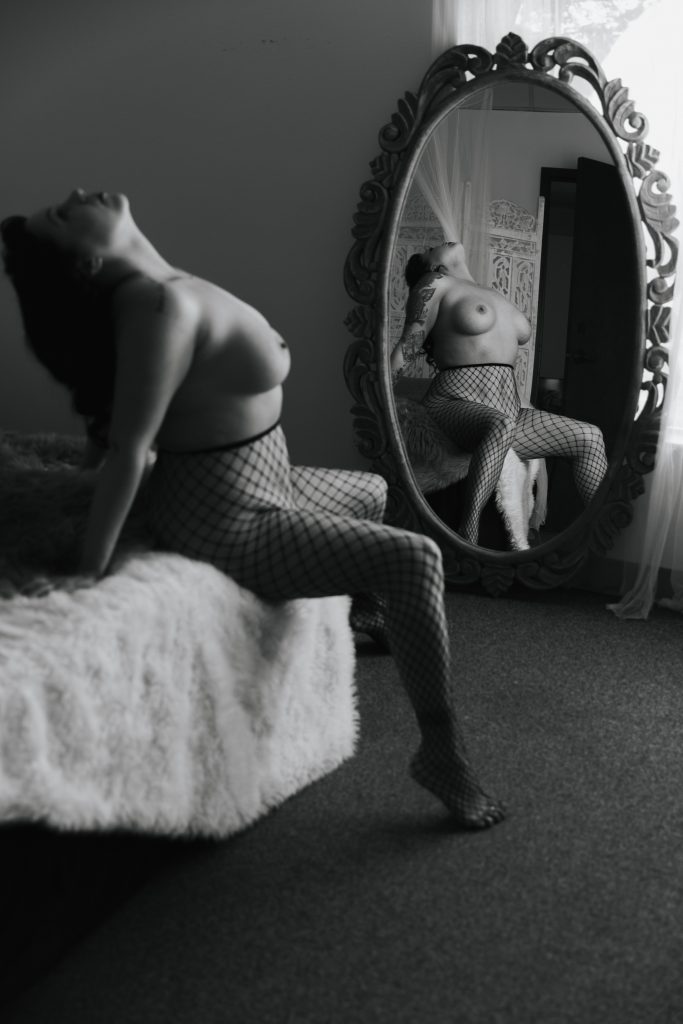 Buy your own:
Fishnet bodysuit  (trust me it's so good)  
The Body Chain! Several different styles and colors including silver, gold and rose gold. The textures are so fun to photograph and really add something extra to your shoot. We highly prefer these nude (gasp!) but they look stunning over a body suit too. No-one is required to go nude, but most find they are so comfortable by the end of their session that they're up for the task!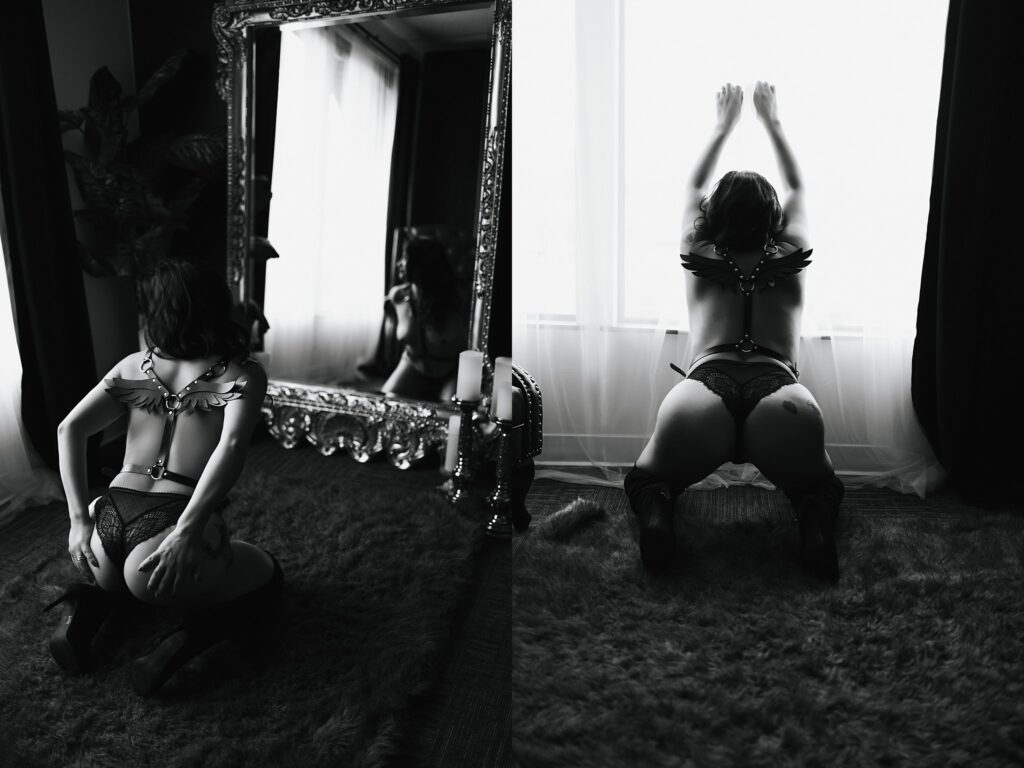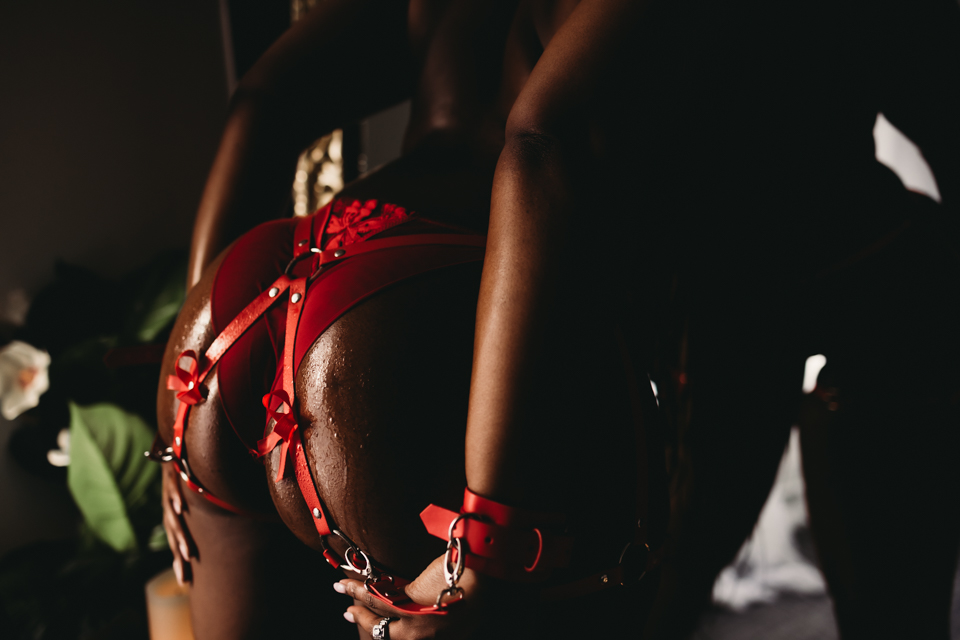 Get your own:
The angel dress – perfect to wear with our blush wings. . It's one of our only dress styles, and it's the perfect mix of conservative and sexy. The sparkles add variety to your session and the soft rose pattern covers you in just the right places. We also have robes and fabrics to play with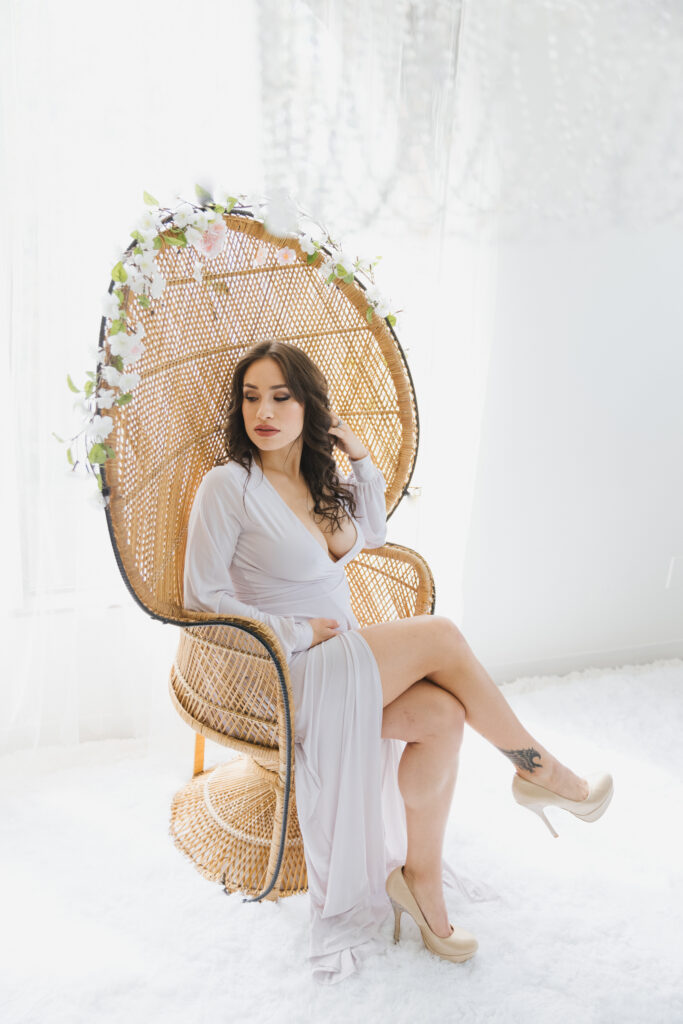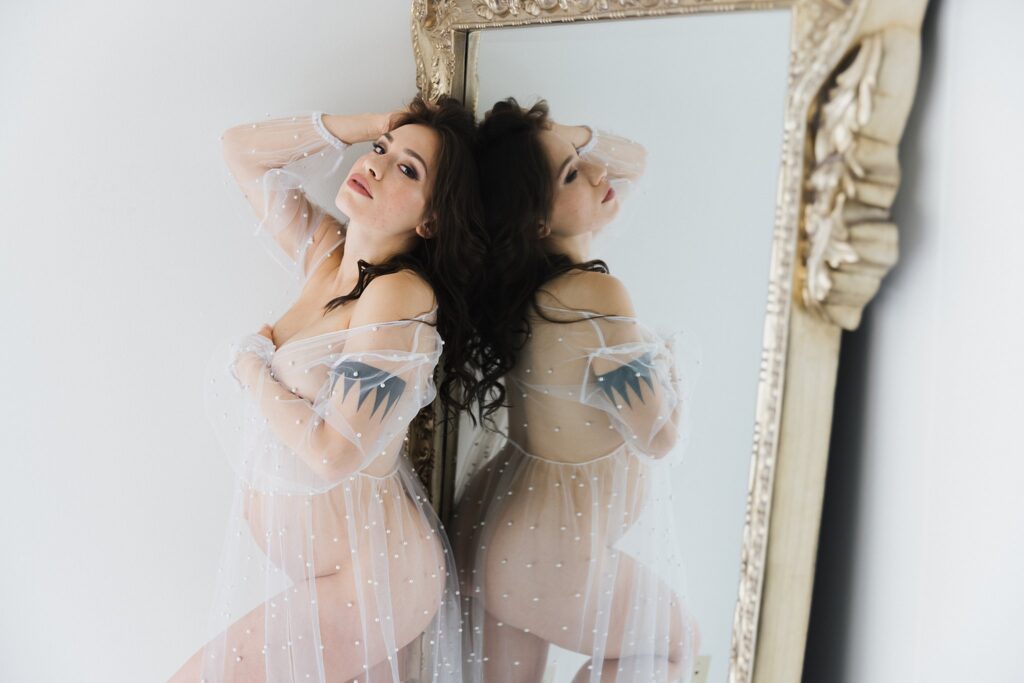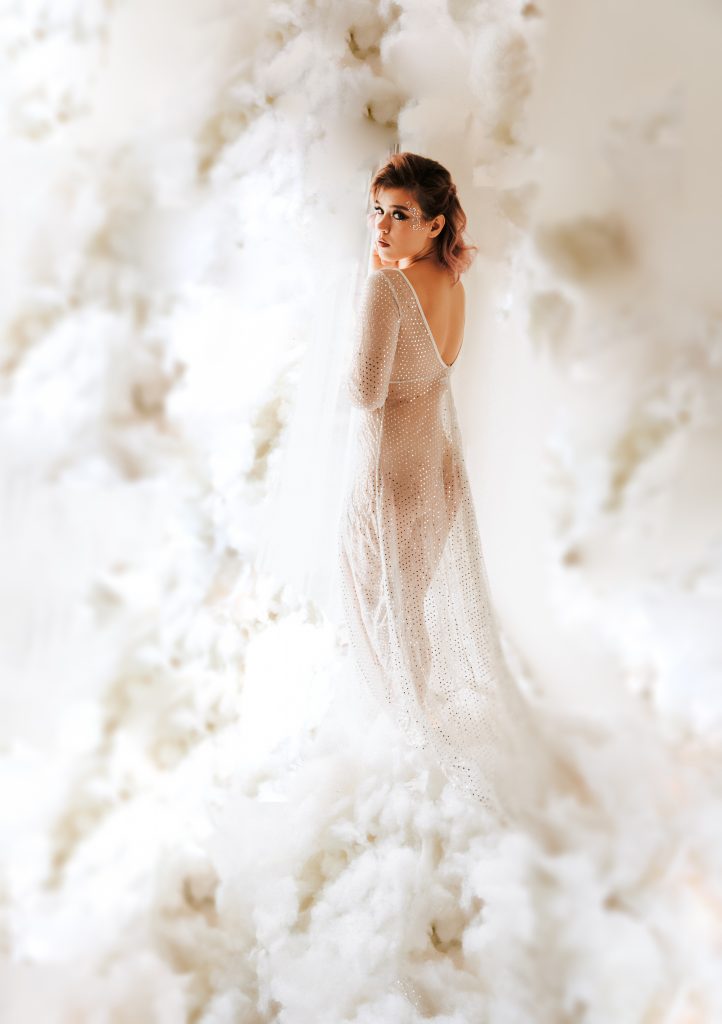 Get your own:
Why do we love these pieces?
They are very flattering for most body types, for starters. We love a lot of our two-pieces and some clients shy away from wanting to wear one but it ends up being one of their favorite pieces from their shoot. The majority of our two-piece sets have high waisted bottoms which are very flattering on most body types! The lace dress is probably one of the most used pieces, ever. They come in a variety of colors and we have them in every single size. We always suggest putting a client into at least one long sleeve piece which is why we have our clients try on the long sleeve lace dress. Body chains tend to scare some people but damn, do they look freaking HOT in photos. We usually tend to use the body chains during the in the sheets portion of the shoot or for some wall poses and they are a real crowd pleaser lemme tell you. The body stocking is another crowd pleaser for a lot of our clients, they often end up emailing us asking if we could order them one because they loved it so much! The body stocking is a one size fits most, it is very stretchy and its amazingly comfortable; they also come in two different colors in a variety of different styles!
You can trust us to listen to you and if any of the pieces we pull out scare you – we don't need to use them! Just because they are our favorite boudoir outfits they don't need to be yours. We are excited to see what kind of magic we come up together for your session 🙂