One of the biggest and most common worries my clients have are "What should I wear, what should I buy, nothing looks good on me!"
First of all, all women are beautiful! Curves, no curves, all shapes, all sizes, are beautiful. I often get questions from clients saying "I'm curvy, so what should I wear?" or "I have no butt!".  Upon booking we will talk about all little details and I will send you extensive lingerie guide with places to shop and what to avoid, but for now – here are few tips based on the most common concerns I get from clients.
THE NUMBER ONE WARDROBE RULE IS: Do NOT bring outfits that you don't love! If you think it *might* be ok and you just thought to bring it, just in case – don't do it! I can't tell you how many women show up with outfits that prompt them to say "I really don't like the way I look in this one, but I'll leave it up to you!". If you don't like the outfit, it's likely that you won't like photos of you in the outfit. Leave it at home!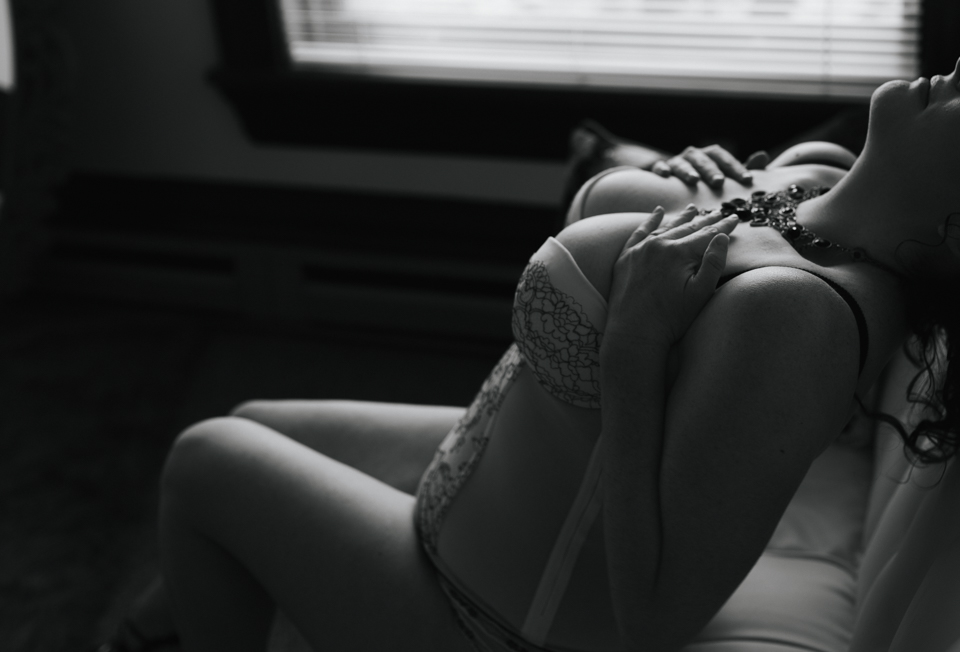 FIND YOUR STYLE
In all honesty, most of us don't wear fishnets and stockings on every day basis. Some never even tried it on (we'll change that hehe)
Knowing what you style is (even if you don't have needed lingerie pieces) will help us know what are you drawn to.
Lace? Silk? Push up bra or bralette? Sporty or ultra sexy look?
Go ahead and experiment with pieces, try different things and see how you feel wearing it.
Goal with boudoir photography is to awaken your inner goddess and if you are uncomfortable – that will be a bit difficult.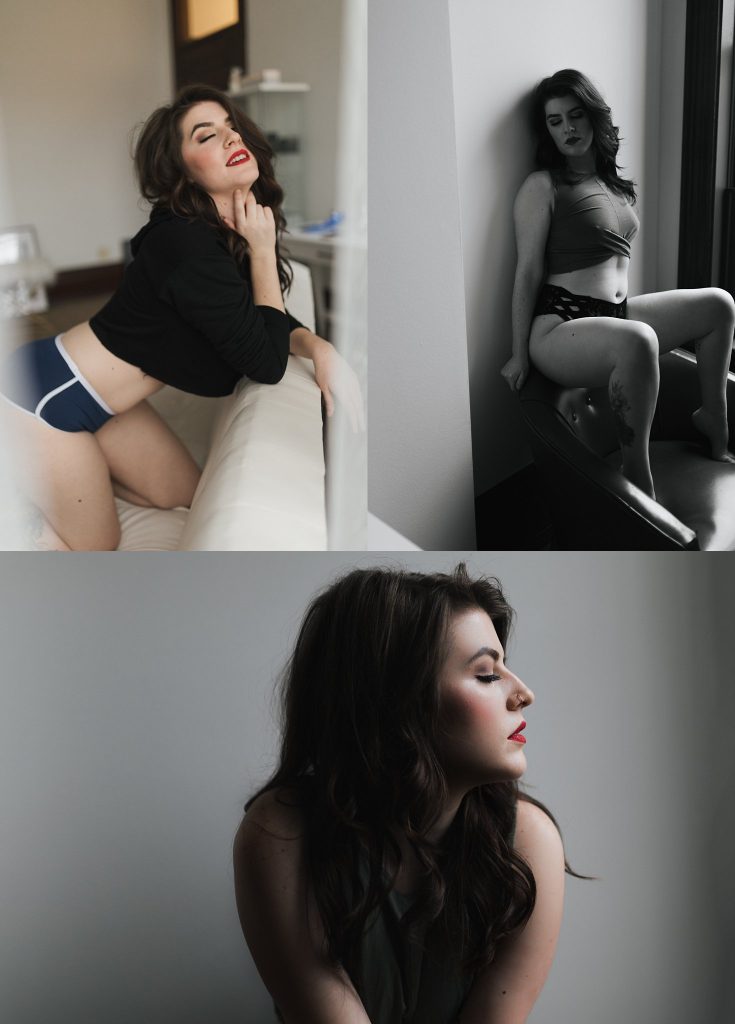 Here are some great items to think about that usually work well for most women:
White tank top, Oversized sweater / Tshirt, Ripped jeans, G-string, Full lingerie set, Body chain / chain bra, Lace robe, Veil (if you're getting married), Bodysuit, Button up shirt (especially if it belongs to your partner), Denim / leather / fur jacket, Sheets, Nothing at all…
Sometimes people need to see things visually to be inspired for a look.  Have a look through my Pinterest board here which is full of thousands of ideas for not only outfits, but poses for your boudoir shoot…  start getting inspired and have fun choosing your looks for your boudoir shoot!
CURVY BODIES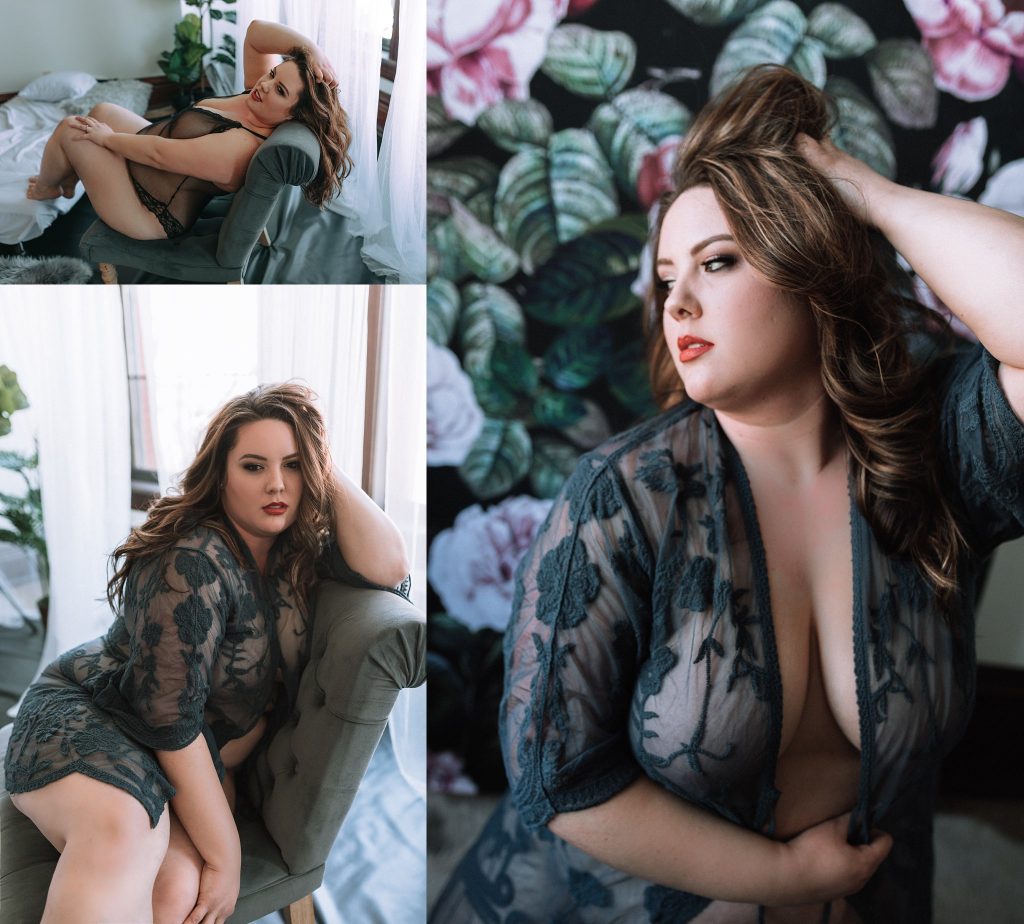 Please bring form fitting pieces!
I know you are thinking babydolls or floor le
ngth robe that covers all of you is the best decision, but you are wrong.
Form fitting photographs so well and it helps showcasing your curves and enhancing your beauty.
Goal is to show you how gorgeous you are – not to hide you. Beautiful lighting and posing will do wonders along side of great lingerie pieces.
Think bodysuits, teddy's, corsets…
FLAT BOOTIE
Anything G-String will create a shape and make your bootie look bigger and rounder.
Posing in very flattering ways + G-string and you are god to go!
SHORT LEGS
High heels with a THIN heel rather than chunky can help if we're doing full body shots! Also avoid dark thick stockings.  Pick wardrobe with high cut! The higher the cut, the longer your legs will look.
NO CURVES
Posing, posing, posing!
you have no idea what little arch and right way of positioning your leg can do for your body!
SMALL CHEST
Small boobies photograph amazing. You can experiment with bralettes and low cut bodysuits. Posing and playing with shadows will create beautiful art, so don't worry!
MOM BOOBS
yup, I said it. It's a thing (and I am personally experiencing it these days).
Choosing lingerie with underwire, corsets, fitted/push up bra will help with making your breasts fuller and perkier. Posing also helps a lot and I am pretty good with that 🙂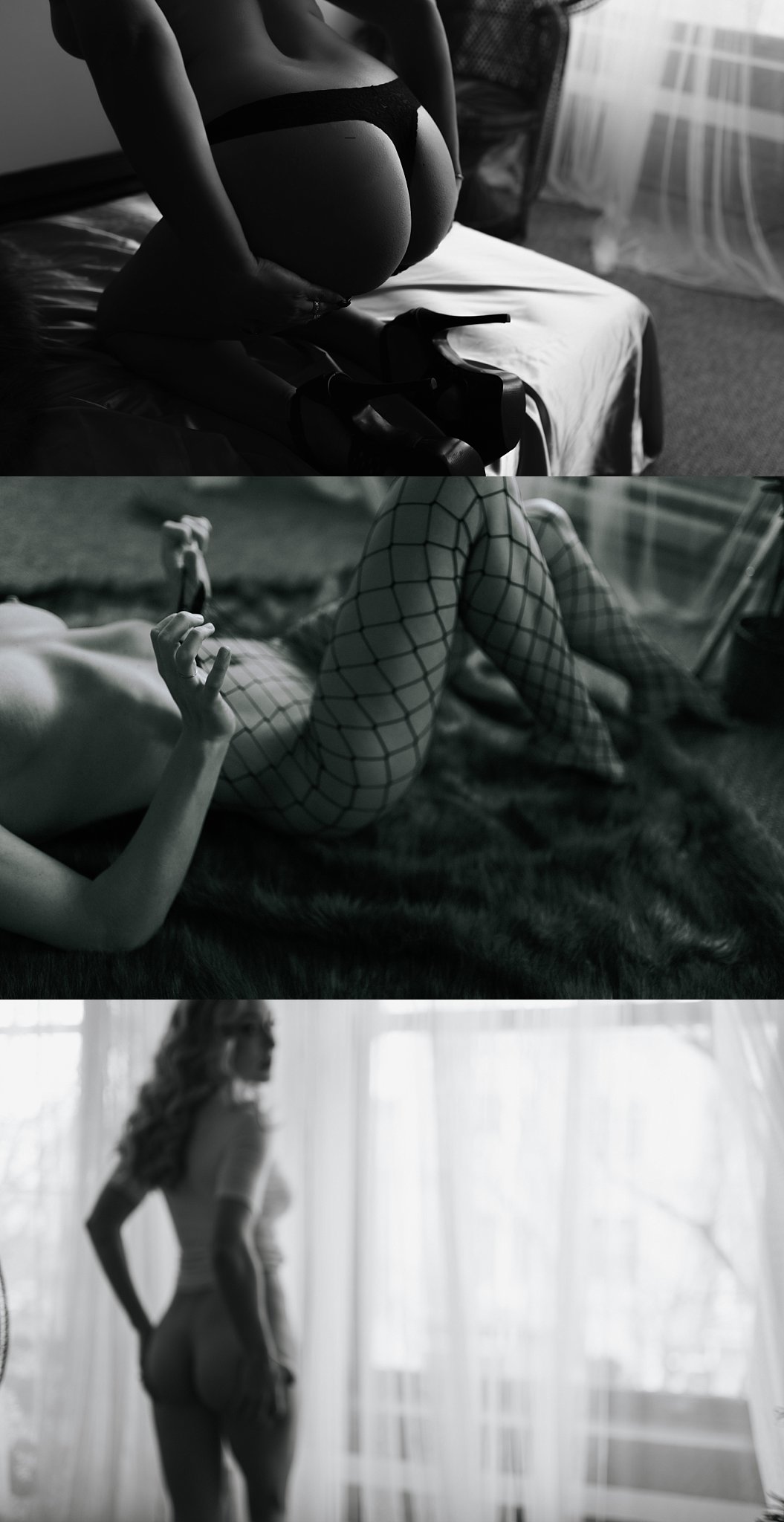 SCARS, CELLULITE, STRETCH MARKS
Life happens and we keep memories of good and bad days on our skin.
Unless you are hating on your scars too much to handle it, I wouldn't be trying to hide it with wardrobe.
We can lighten imperfections in post production and use light and shadows to minimize it.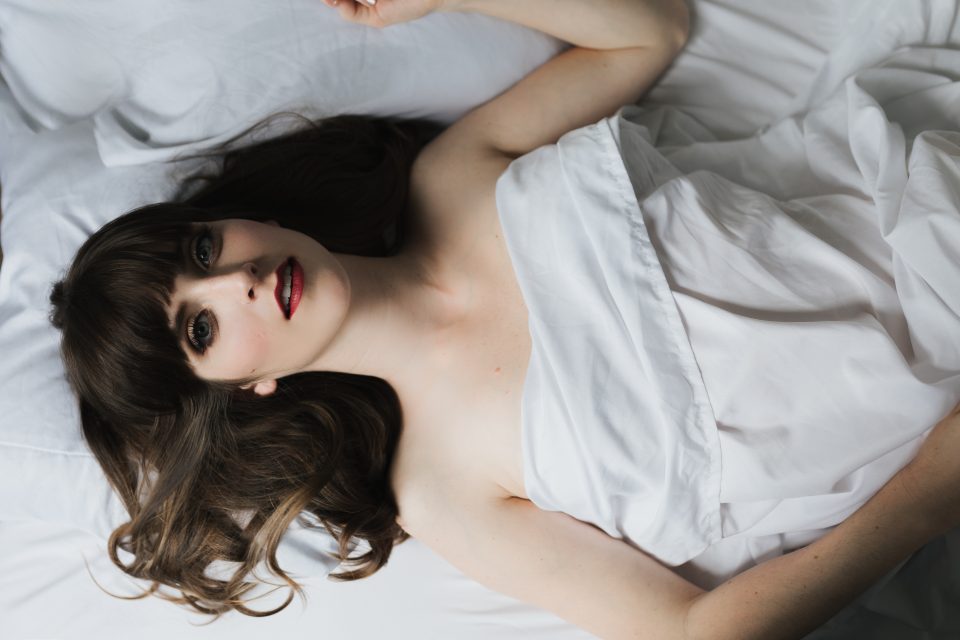 Lingerie is NOT a must! Especially complete lingerie sets. Don't be afraid to get creative! For a boudoir style shoot, fishnets would go great with a cropped shirt or jumper. A gorgeous bra can be paired with mismatched bottoms, or no bottoms at all. A sheet can be used for everything. This is about YOU and your authentic personality, not about being someone you aren't.
Do you want to know more?
XO,
Dijana