Why Boudoir Photography?
It's hard to describe what is so special about boudoir photography. It's nothing like any other genre and it makes a tremendous difference in every client's (and mine!) life. Boudoir photography is about recognizing that you are a beautiful person, every day and in every way. It's about recognizing you are worthy of love and you deserve to wear pretty lingerie, act and feel like a sensual being even if in your day to day life you don't feel like it.
It's about self acceptance, joy of being a womxn, drinking mimosas, getting glammed up in our studio and laughing for the day with me and my day – feeling on top of the world the day of the session and every day afterwards.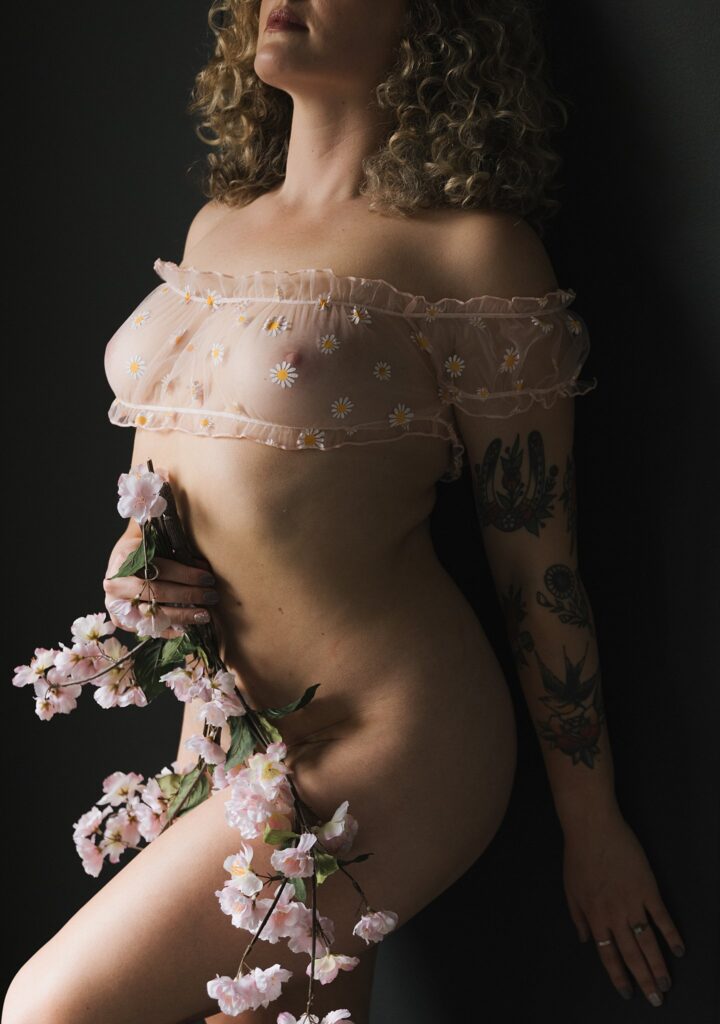 I started boudoir photography because I stoped believing I am worthy. I gained lots of weight, became a mom and started feeling like my womanhood is slipping away. I am a mom, sister, wife, employee, cleaning lady, cook…I am everything before I am myself and it hit hard on my self esteem. After having my own session, I regained my confidence and even on the days I feel frumpy – I get to look at those images and remember I am a baddie. Every day.
So if I feel like that, so do other womxn too and that's how boudoir photography became my passion and primary focus. It's my goal to show you how incredible you are. I want to show you how much more there is to live for, and how stunning you really are. I want to blow your mind with gorgeous images of yourself you get to look at every day.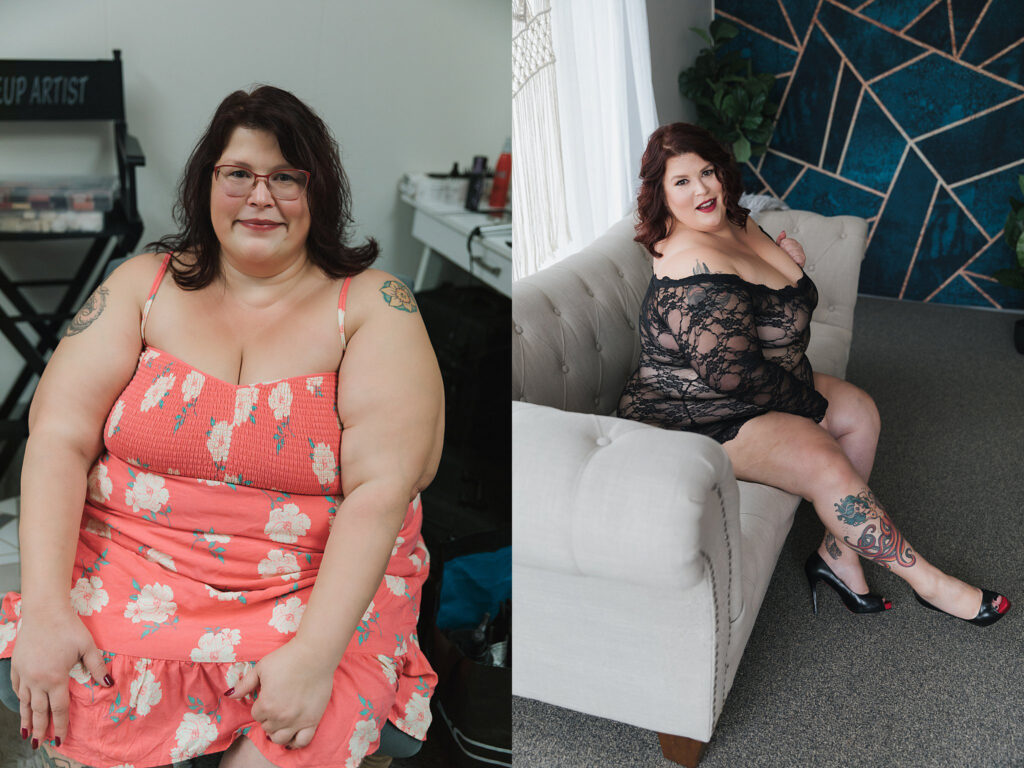 The Transformation
One of the best part of the whole experience is the makeover part of the day. Most of the clients come nervous, feeling unprepared and stressing about the next step. They don't know will they like the photos, how will the outfits look, how will they look and what if they do something wrong.
By sitting in the make up chair, having coffee, tea or mimosa with us, she gets to tells us her WHY and her journey. Client usually shares about what made them book the session and what are they hoping to achieve with it.
Our make up artist and myself work our magic from that point on! Client gets to sit and relax and our stylist will do beautiful job with hair and make up per client's wishes. Some want natural, and some want full glam and we are ok with both! I will pull out all the best outfits, shoes, props and set up studio per client's wishes. If they want romantic they will get sensual and soft sets and colors. If they want bold and naughty, they will get moody and dramatic props and sets.
We will help our client ease her mind and take care of her every step of the way.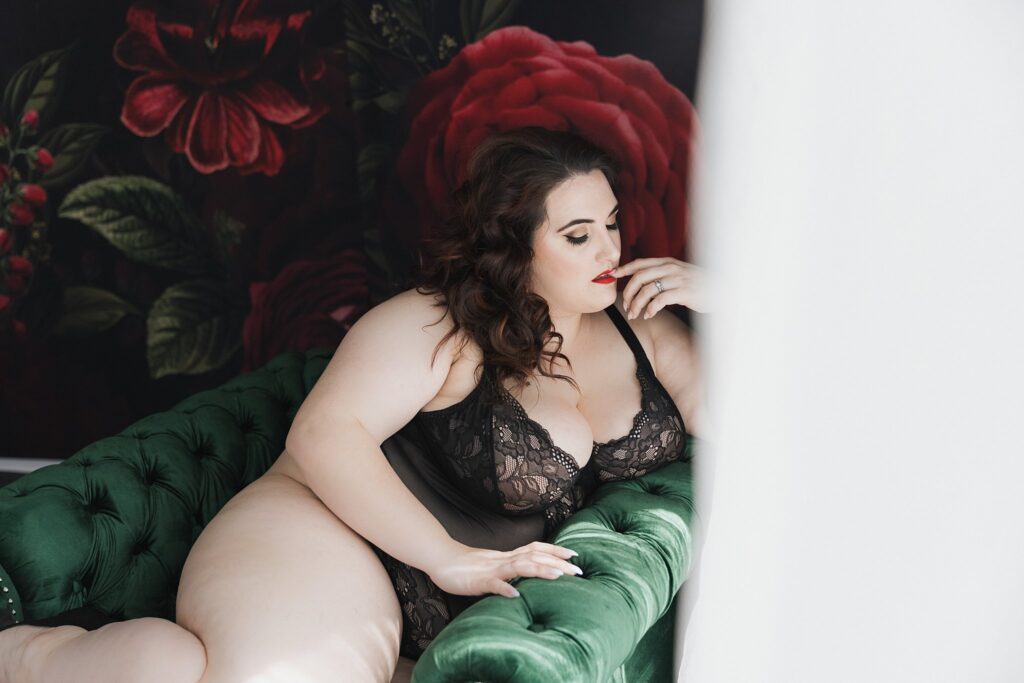 During the session there will be so much laughter and silliness, they forget that they were nervous after 5 minutes and the biggest change happens after I show them the first back of the camera photo. There is shouting "OH MY GOD, IS THAT ME??" and lot's of excitement for the rest of the session.
After everything is done, they get to see their images and fall in love with themselves all over again. It's the most beautiful experience being part of that.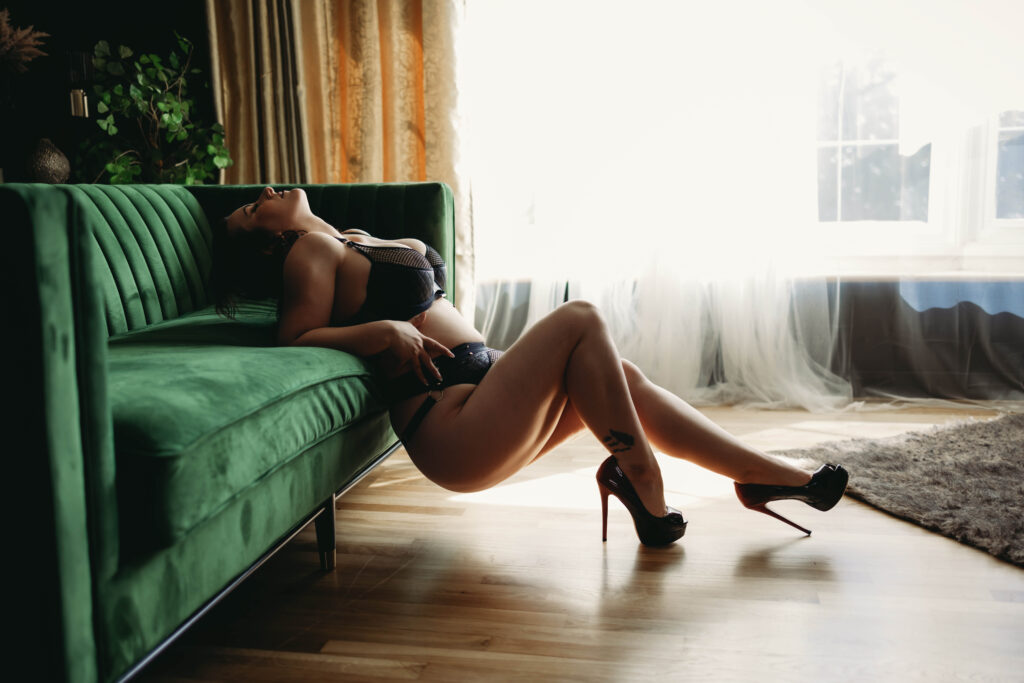 Yup! That's me at my boudoir shoot!
I come from a small village in Eastern Europe and I was born during war. I have 3 photos from my childhood. Photography was not valued (reasonably so) and it always felt like vanity. I had a lot to overcome to start seeing myself as being worthy of being photographed. That is not vanity and it's not something to be ashamed of. I want to feel good in my skin. I want to feel beautiful.
I will not lie to you. Before my first boudoir session I was scared and nervous. Even though I know what boudoir photography is about, I was still stressed about the results. After I saw myself, I didn't get that overwhelming feeling of excitement, but it was a relief. It was so beautiful seeing these images of myself and know that I look fineeee and even with the weight gain and all life threw at me, I still got it 🙂 I am proud of my body and this journey that led me to a life I get to help other women feel as good as I do when I see my images.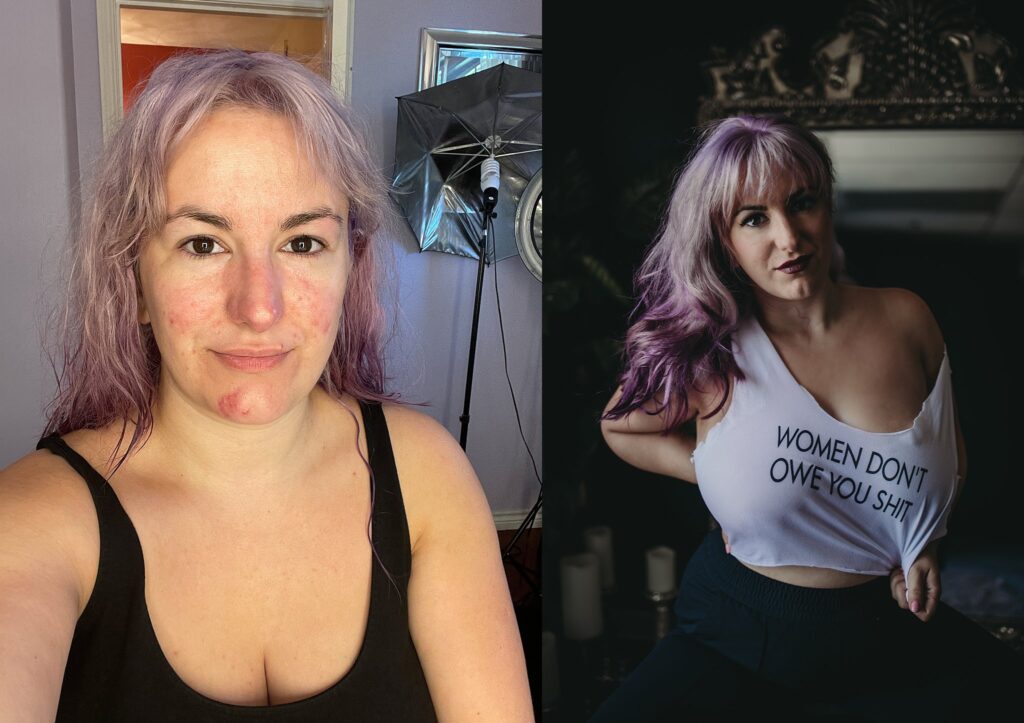 Interested in having your own boudoir experience?